Doba čtení:
4
minut/y
---
Birding, or birdwatching, can take many forms. It can be approached scientifically, artistically or even technically. We can observe birds in our own garden, but also in the most remote parts of the world. We can simply learn about bird species or we can focus on their song, behaviour, their environment, their migratory patterns, nesting and many other aspects of their lives.
But in any case, the relationship that a birdwatcher develops with the object of his or her interest is a positive one, and conservation is an important part of it. Birdwatching, although in some countries it is indeed a mass recreational activity, does not harm nature, but on the contrary has an educational and educational character and popularises both bird and nature conservation. Simply put, a birdwatcher is a nature lover who is dedicated to birdwatching.
---
We have set several goals for birding in 2022:
BIRD OF THE YEAR 2022
European bee-eater
OBSERVATION OBJECTIVE
Eurasian black grouse
Common crane
owls
Eurasian hoopoe
waders
PHOTOGRAPHIC TARGET
European bee-eater
owls
birds of prey
Eurasian black grouse
TARGET LOCATION
areas of occurrence of Eurasian black grouse
Ploučnice meanders (Hradčany and Veselí area)
bird area Řežabinec
natural monument Sandy overflow near Osečko (Poděbrady)
---

HOW DO WE MEET OUR OBJECTIVES?
The European Bee-eater is our Bird of the Year for 2022 and also a photographic target. We have enjoyed more than enough bee-eaters this year and both the experiences and the photos are more than enough. Our first bee-eaters sighting of the year was May 21, 2022.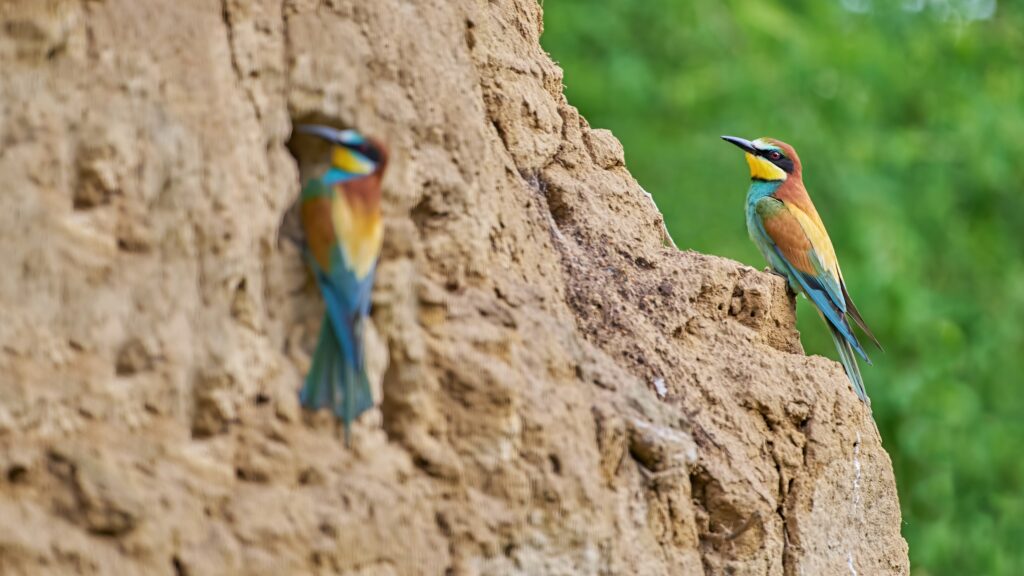 Another target of this year's observation is the Eurasian black grouse. In this case, too, we were successful. Photographically it was not as successful as I would have imagined, but at least a documentary photo was taken. The first sighting took place on 1.4.2022.
The third objective was to observe the Common Crane. We were really lucky this year, and you could almost say that we saw cranes almost everywhere we went. The first sighting was on 19.2.2022.
Mudmen have not given us much work so far this year either. Moreover, the year is not over yet and therefore I hope that we will be able to expand the birdlist this year. So far we have been lucky to see a northern lapwing (1.3.), a green sandpiper (5.3.), a common snipe (5.3.), a wood sandpiper (16.4.), a ruff (16.4. ), little ringed plover (16.4.), black-winged stilt (14.6.), common redshank (15.6.), spotted redshank (15.6.), pied avocet (15.6.) and finally black-tailed godwit (15.6.). I think 11 species of waders observed in the first half of the year is a super achievement for us.
We were lucky enough to observe the Eurasian hoopoe also this year, near the ornithological station Velký Tisý. However, we did not manage to photograph it yet.


FOTOGRAFICKÉ CÍLE
Even in terms of photographic objectives, it is more or less successful. Aside from bird photos, which are also targets of observation, I have been lucky with birds of prey beyond this. You can see their photos in the Projects section under Birds of prey project 2020-22.